Committees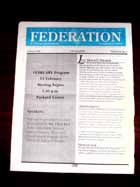 Here's this month's Bulletin
Past Bulletins


Minutes and Agendas


You'll need Adobe Acrobat Reader to view bulletins, minutes or agenda, get it here!

Welcome to the Fairfax County (VA) Federation. We are THE Association for the County's Homeowner, Civic, and Community organizations. Join us as we work together on issues that impact all Fairfax County residents.
Fairfax County Volunteer Citizen of the Year

Nominations can be submitted from 1 December 2018 until 31 January 2019

Whom will you nominate?

Each year, a selection committee of county-wide organizations meets to review nominations for the Federation's "Citizen of the Year" and Citation(s) of Merit.

The winners are honored at our annual banquet scheduled this year for spring 2019. Both the Citizen of the Year Designation and Citation(s) of Merit recognize and honor those citizens whose voluntary contributions of time and talent have resulted in major accomplishments that have enhanced the quality of life for citizens of Fairfax County.

The Nomination form is available

online

and in

RTF format

.

The 2018 Nomination period is from 1 December 2018 to 31 January 2019
We thank those who honor their fellow citizens by nominating them for consideration.
Coming Up
Federation Inclement Weather Policy
---
Next Federation Membership Meeting
Thursday, 20 December 2018, 7:30 PM
Topic: The Fairfax County Federation of Citizens Association will focus on the Fairfax County Independent Police Auditor, and the Fairfax County Civilian Review Panel
at: Mason Governmental Center, Main Community Room
6507 Columbia Pike, Annandale, VA 22003
Members' Agenda (posted week of meeting)
Previous Month's Draft Member Meeting Minutes for Approval
---
Next Federation Board Meeting
Thursday, 6 December 2018, at 7:00 p.m.
This is our annual holiday board dinner, which will be at Glory Days Grill, Pan Am Shopping Center, 3059 Nutley St NW, Fairfax, VA 22031 Please RSVP to the Federation president at Fed pres 2019 @ FairfaxFederation.org
Draft minutes of previous Board meeting
Search this site!
Cut and paste this string into Google with your search words:

"inurl:www.fairfaxfederation.org"

for example: "inurl:www.fairfaxfederation.org BRAC"
or
"inurl:www.fairfaxfederation.org Dulles Rail"
The Federation in the Media
Check out references to the Federation in the local media!
Membership:
17 January 19 - TBD - Reston Community Center
21 February - 2020 Fairfax County and Public Schools Budgets - TBD
21 March - Enforcement of Short Term Lodging (AirBnB and its ilk) regulations - Bradock Hall
Board:
24 January 2019 - Dunn-Loring Community Center
28 February 2019 - West Springfield Government Center
28 March - TBD
Approved Federation Actions